Welcome Parents and Carers
It seems a long time since I have written to you so I felt it would be a good time to give you an update on all that is going on at Kirn.
Over the last few weeks each class have been learning some Scottish Poetry.  I have been delighted with the effort and enthusiasm displayed by the pupils.  The poetry recitals have been most entertaining and I can see that most of the pupils have enjoyed the experience.  Thanks to the family members who have supported their children in learning these poems. No easy feat but one which many of the pupils have carried out superbly.
We have been working closely with members of the local community in developing our garden.  10 raised beds have been created around the Ploy Tunnel and some classes will be involved in planting, growing and harvesting some crops. This will be growing on a much larger scale than before and we are enjoying working alongside our community partners. On another note I have noticed that the bulbs we planted last year are beginning to show little green shoots.  I am looking forward to the wonderful colours emerging in our planters around the school.
Enrolments for both school and nursery have now closed and we are looking forward to welcoming lots of new pupils.  More information regarding transitions into school will come out via email and on Facebook.  If you have any questions please contact the school office and we will be able to help you from there.
Primary 7 pupils will soon begin their transition into Dunoon Grammar School.  The children will attend a weekend residential at Benmore Outdoor Centre.  This gives the pupils a chance to meet new friends and get to know some of the staff form DGS.  Exciting times ahead for our older pupils.
We are excited that we are now permitted to hold whole school assemblies.  This was an important of life at Kirn Primary School until Covid hit and restrictions meant that we could no longer meet as a whole school.  From Monday we will begin having our whole school assemblies each Monday morning and then an Achievement Assembly for P3-7 last thing on a Friday.  Assemblies enable staff and pupils to remind everyone of our very important school values (Kindness, Inspirational, Respectful and Nurturing) and also to explore topical and moral issues.  Assemblies also give us an opportunity to sing together – something we have greatly missed.
A wee reminder that all children have homework – whether it be learning their reading and sounds in Primary 1 & 2 or spelling, reading and numeracy work further up the school.  We do not put a lot pressure on pupils but do encourage then to complete what they can.  Some teachers send homework through Seesaw, others send home paper copies.  We would really appreciate if parents and carers were able to support their children in ensuring homework is completed.
Below I have shared the important dates coming up. Please note we are planning a church service just before the Spring Break.  Primary 3 will lead the service whilst being supported by some P7 pupils.  We will send more information out nearer the time.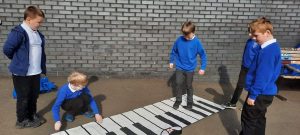 Important Dates
Thursday 10th March – P6 Euro Quiz in school
Friday 11th March – P6&7 attend play 'The Boy with the Cuckoo Clock Heart' at The Burgh Hall (1.45-2.45pm)
Wednesday 23rd and Thursday 24th Parents' Evenings (more info to follow)
Thursday 31st March – 10am Church Service
Friday 1st April – School Closes at 2.15 or 2.30 for Spring Break
Tuesday 19th April – School re-opens.